Disability Discrimination and Reasonable Accommodations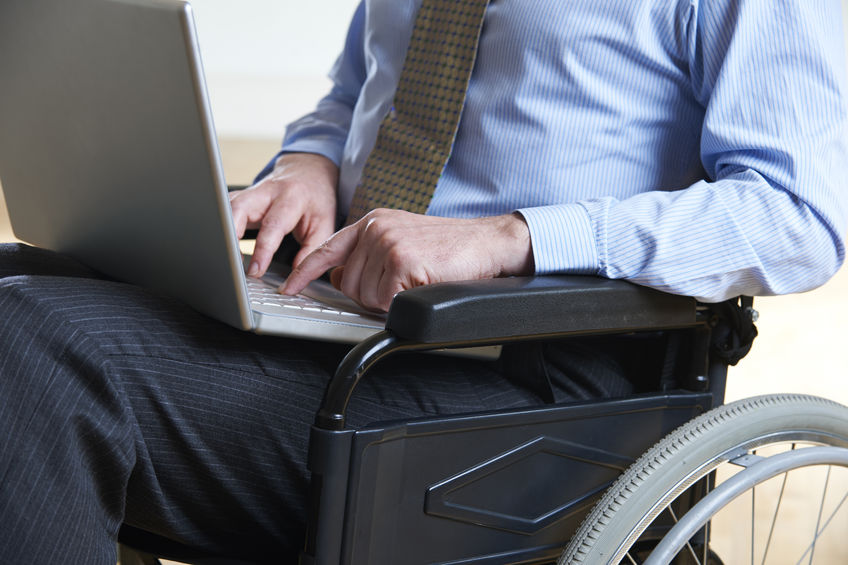 CREWS LAW FIRM FIGHTS FOR PEOPLE WITH DISABILITIES
Crews Law Firm, PC has represented many people with disabilities in situations involving their current or former employers. We have fought for the rights of persons with disabilities to be treated fairly, to be given reasonable accommodations so that they can perform their jobs, and to not be discriminated or retaliated against because they have a disability, because they have asked for reasonable accommodations, or have opposed disability discrimination. If you believe your employer is discriminating or treating you unfairly because you have a disability or your employer believes you have a disability, Crews Law Firm may be able to help.
Examples of Disability Discrimination Cases Handled By Crews Law Firm include:
A major Texas university hired a Deaf person as a professor, but then terminated his employment approximately 9 months later claiming he was not performing satisfactorily. The university had not given any prior disciplinary actions or warnings that the Deaf employee's performance was not meeting expectations, and in fact, his performance was better than or comparable to other professors with no disabilities. Crews Law Firm fought on behalf of our Client for approximately four years to show that our Client had been discriminated against because he was Deaf, ultimately winning a substantial jury verdict.
A mid-level manager had medical problems relating to chronic back pain and was warned about taking time off for his medical issues. A short time later the employee was diagnosed with cancer and took approximately a month off for treatment. The employer terminated the employee claiming the employee abandoned their job and did not properly comply with leave requirements. We fought on behalf of our client and recovered fair compensation for disability discrimination and failure to make reasonable accommodations.
A long-time employee with mental health issues needed accommodations in their job, including better job training, direct and clear instructions regarding work assignments, and other issues relating to supervision. Crews Law Firm successfully worked with the employer and the employee to help ensure that the employer provided reasonable accommodations to our client and did not retaliated against her for requesting assistance or for disclosing her medical issues.
Call (512) 346-7077 today or click here to schedule an appointment with one of our lawyers if you or a loved one have been discriminated against at work.
The Americans With Disabilities Act ("ADA") and its Texas counterpart, Chapter 21 of the Texas Labor Code, prohibit employers (with at least 15 employees) from discriminating against employees because of a disability or because the employer regards or perceives the employee as having a disability, as long as the employee can perform the essential job functions with (or without) reasonable accommodations. The law protects people with both physical and mental disabilities. An employer is also required to make "reasonable accommodations" for employees with disabilities unless it creates an "undue hardship" on the employer.
Who Is Protected and Has a "Disability" Under the Disability Discrimination Laws?
Both the ADA and Texas law provide a broad definition of "disability" that includes most serious long term physical or mental medical illnesses or conditions. Specifically, an individual with a "disability" is defined as a person who has a physical or mental impairment that substantially limits one or more major life activities, a person who has a history or record of such an impairment, or a person who is perceived by others as having such an impairment. Major life activities include, but are not limited to, caring for oneself, performing manual tasks, seeing, hearing, eating, sleeping, walking, standing, lifting, bending, speaking, breathing, learning, reading, concentrating, thinking, communicating, and working. Major Bodily Functions include, but are not limited to, functions of the immune system, normal cell growth, digestive, bowel, bladder, neurological, brain, respiratory, circulatory, endocrine, and reproductive functions.
Examples of covered physical and mental impairments that should virtually always be considered a disability include:
Deafness substantially limits hearing.
Blindness substantially limits seeing.
An intellectual disability (formerly sometimes referred to as mental retardation) substantially limits brain function.
Partially or completely missing limbs or mobility impairments requiring the use of a wheelchair substantially limit musculoskeletal function.
Autism substantially limits brain function.
Cancer substantially limits normal cell growth.
Cerebral palsy substantially limits brain function.
Diabetes substantially limits endocrine function.
Epilepsy substantially limits neurological function.
Human Immunodeficiency Virus (HIV) infection substantially limits immune function.
Multiple sclerosis substantially limits neurological function.
Muscular dystrophy substantially limits neurological function.
Major depressive disorder, bipolar disorder, post-traumatic stress disorder, obsessive compulsive disorder, and schizophrenia substantially limit brain function.
An individual meets the requirement of 'being regarded as having" a disability if the individual establishes that he or she has been subjected to an action prohibited under the disability discrimination laws because of an actual or perceived physical or mental impairment whether or not the impairment limits or is perceived to limit a major life activity. To be covered, an employee only has to establish that an employer discriminated against the employee because of a medical condition, whether the employee actually has one or the employer just thought they did.
Reasonable Accommodations
Crews Law Firm PC assists people who have disabilities and have requested reasonable accommodations or need help requesting accommodations. Although many individuals with disabilities can perform jobs without any reasonable accommodations, there are workplace barriers that keep some from performing jobs which they could otherwise do with some form of accommodation. These barriers may be physical obstacles (such as inaccessible facilities or equipment), or they may be procedures or rules (such as rules concerning when work is performed, when breaks are taken, or how essential or marginal functions are performed). Reasonable accommodation removes workplace barriers for individuals with disabilities.
The Americans with Disabilities Act ("ADA") and state law (Chapter 21 of the Texas Labor Code) requires an employer to provide reasonable accommodation to qualified individuals with disabilities who are employees or applicants for employment, unless to do so would cause undue hardship. Reasonable accommodations must be provided to qualified employees regardless of whether they work part- time or full-time, or are considered "probationary." Generally, the individual with a disability must inform the employer that an accommodation is needed.
In general, an accommodation is any change in the work environment or in the way things are customarily done that enables an individual with a disability to enjoy equal employment opportunities. "Reasonable accommodations" include modifications or adjustments to the work environment or to the way in which a position is normally performed to help a person with a disability be able to perform the job.
There are a number of possible reasonable accommodations that an employer may have to provide to a qualified person with a disability regarding how and when a job is performed. These can include:
part-time or modified work schedules;
additional medical leave for a specific period of time;
changing supervisory or management practices;
making existing facilities accessible;
acquiring or modifying equipment;
providing qualified readers or interpreters;
reassignment to a vacant position.
A modification or adjustment is "reasonable" if it "seems reasonable on its face" – this means it is "reasonable" if it appears to be "feasible" or "plausible." An accommodation also must be effective in meeting the needs of the individual. In the context of job performance, this means that a reasonable accommodation enables the individual to perform the essential functions of the position.
The only statutory limitation on an employer's obligation to provide "reasonable accommodation" is that no change or modification is required if it would cause an "undue hardship" to the employer. "Undue hardship" means significant difficulty or expense and focuses on the resources and circumstances of the particular employer in relationship to the cost or difficulty of providing a specific accommodation. Undue hardship refers not only to financial difficulty, but to reasonable accommodations that are unduly extensive, substantial, or disruptive, or those that would fundamentally alter the nature or operation of the business. An employer must assess on a case-by-case basis whether a particular reasonable accommodation would cause undue hardship.
If you or a loved one need legal assistance regarding reasonable accommodations or disability discrimination, call (512) 346-7077 today or click here to schedule an appointment with one of our lawyers.
An excellent resource for individuals and employers considering reasonable accommodations is the Job Accommodation Network, www.askjan.org. The website and services offered by the Department of Labor include numerous examples of potential reasonable accommodations for specific medical, physical and mental conditions.
For more information on employment law and the types of evidence used in employment law cases, click here for an article written by Crews Law Firm Attorney Robert W. Schmidt published in the Texas Bar Journal.
For additional information on employment law, also visit the Workplace Fairness website at http://www.workplacefairness.org/.